Holiday in Saint Louis
I remembered to take my wife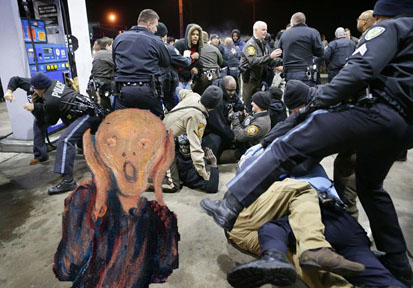 (((Listen)))
30 minutes
Michael Woodson Hosts Missouri Boy Innerside Radio with Special Guest, Scooter.
Michael Brown Internet Smears Debunked. The Missouri Compromise. The Muncipalities of StL
and why the Po-Po are not Beloved Protectors. Arch City Defenders. Antonio Martin Shot,
we attend Protest. Things get Weird for Scooter. Fire and Explosions Ensue.

Conclusion: Antonio Martin is a Darwin Award, not to be Conflated with Brown
nor the Hundreds of Death by Cop People of Color. The StL Rapid Response Teams
are Problematic. Like Every Revolution is Problematic. But they are Determined, Relentless
and they aren't giving up. Turn your eyes to Saint Louis, the shit is going down NOW,
and it ain't happening in Oakland, NYC or LA.

"Once in awhile you get Shown the Light
In the Strangest of Places if You
Look at it Right"